New Patients
If you wish to register with the Practice, please do so by filling out form GMS1 plus the practice Patient Questionnaire and bring them to reception. Visit our Patient Forms page to find all the forms you need in order to register. Please note we also require a form of photo ID to verify your identity when you bring your completed forms to reception.
It is vital that you complete all fields on the registration form as any incomplete details may result in a delay in your registration. As soon as you have completed the registration form you will be able to book an appointment with us. If you are registering with the Practice on a permanent basis your records will be automatically sent on from your previous practice.
Summary Care Record
The NHS Summary Care Record will be used in emergency care. This record will contain information about any medicines you are taking, allergies you suffer from and any bad reactions to medicines you have had to ensure those caring for you have enough information to treat you safely.
Your Summary Care Record will be available to authorised healthcare staff providing your care anywhere in England, but they will ask your permission before they look at it. This means that if you have an accident or become ill, healthcare staff treating you will have immediate access to important information about your health.
Your GP practice is supporting Summary Care Records but as a patient you have the choice to have one or not. If you wish to have one, you do not need to do anything and a Summary Care Record will be created for you. If you do not wish to have one, you need to complete the Opt Out Form and hand it to a member of the GP practice staff with your other registration documents.
Children under 16 will automatically have a Summary Care Record created for them unless their parent or guardian chooses to opt them out. If you are the parent or guardian of a child under 16 and feel that they are old enough to understand, then you should make this information available to them.
You can choose not to have a Summary Care Record and you can change your mind at any time by informing your GP practice.
For more information talk to NHS Digital by telephone on 0300 303 5678 or by e-mail at This email address is being protected from spambots. You need JavaScript enabled to view it., GP practice staff, or visit Summary Care Records (SCR) - information for patients.
You have a right to express a preference to receive services from a named clinician in the practice. If you wish to do this please inform the receptionist when you register with the practice or at any time while registered. While we will always endeavour to honour your preference we do however need to make it clear that in the event of an emergency or unavailability we may not be able to do so.
Please note that we ONLY take patients living within the catchment area shown below (villages circled in green):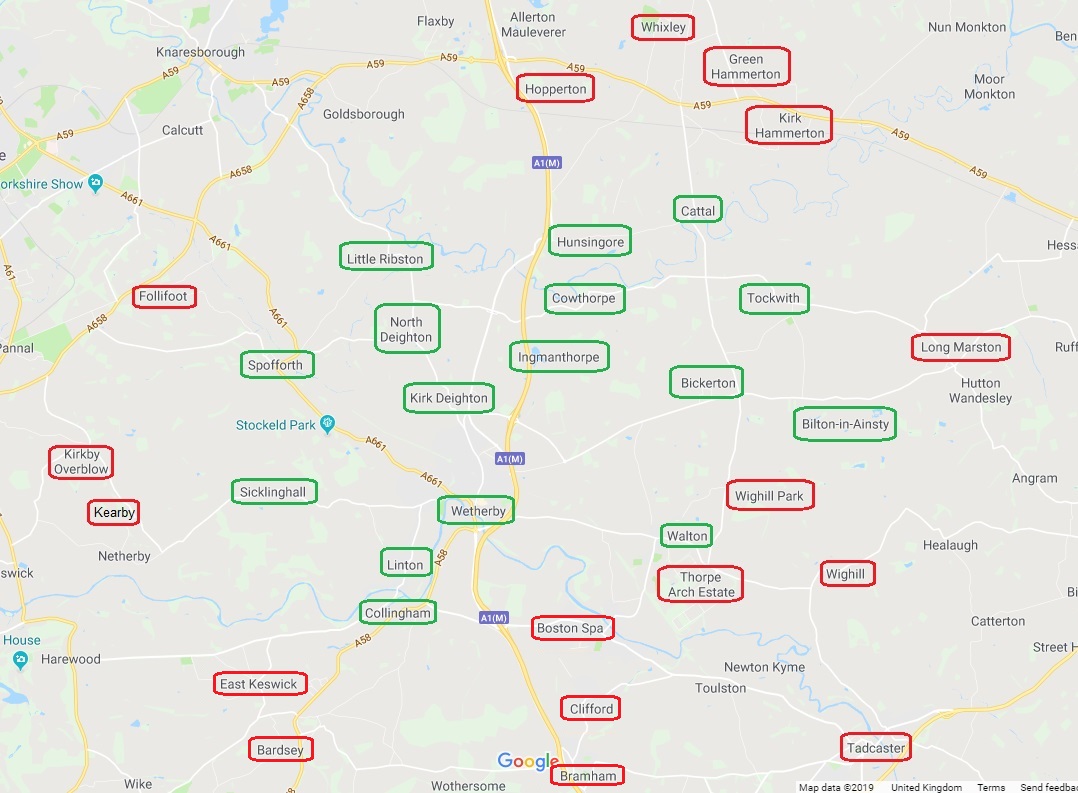 We do NOT take new patients from the following areas:
Boston Spa
Bramham
Clifford
East Keswick
Bardsey
Tadcaster
Green Hammerton
Kirk Hammerton
Whixley
Long Marsden
Kirby Overblow
Kearby
Hopperton
Follifoot
Wighill
Wighill Park
Thorpe Arch
If you require information on the location of your nearest GP, please contact NHS Leeds on (0113) 305 9763 or West Yorkshire Central Services Agency (WYCSA) on (0113) 295 2553.
Change of Address
If you change your name, address or telephone number, please let us know in order to keep our records accurate.
Moving Out of the Area
If you are moving to an address outside of the practice area, you will be asked to register with another GP nearer your new address. If you are moving to the villages of Bardsey, Clifford, Bramham, Boston Spa or East Keswick, you can choose to remain registered with our practice.
If you move outside of the Leeds PCT area, then you will automatically be removed from the patient list.
If you have any concerns or queries regarding this, please speak to one of our receptionists.
To find out where your nearest GP is, please visit the NHS Website.