GP Partners

Dr Ellis Rickwood

MB, ChB, MRCGP, DRCOG

Dr Maria Frith

MBBS, MRCGP, MRCP
Dr Rickwood qualified from Leeds in 1990.

His specialism is musculo-skeletal / sports medicine and has a particular interest in joint injections.

GMC No. 3499423

Dr Frith qualified from Newcastle in 1987.

Joining the practice in 1997, she is the prescribing lead and has a special interest in medicine and atrial fibrillation.

GMC No. 3255401

Dr Mark Salisbury

MBChB, MRCGP, DRCOG, DFSRH

Dr Deborah Lawrence

MBBS, BSc, DFFP, DFSRH, DRCOG, MRCGP, PGCME
Dr Salisbury qualified from Leeds in 2004.

He has a special interest in hypertension and joint injections

GMC No. 6099166

Dr Lawrence qualified from London in 2004 and works three days a week. Her special interests are Women's health and Diabetes.

GMC No. 6103207

Dr Gill Kitchen

MB, ChB MRCGP DRCOG DFFP

Dr Nick Bennett

MBBS MRCS(Ed) MRCGP

Dr Kitchen qualified from Leicester in 2002. She currently works three days a week and is one of our Palliative Care leads and also runs the Dementia Clinic.

GMC No. 6052728

Dr Bennett qualified from The University of Hull and the University of York in 2008 and currently works three days a week.

GMC No. 7013951

Salaried GPs

Dr Zandra Quinn

BMSc, MBChB, DRCOG, DFFP

Dr Sarah Fraser

MB, ChB, MRCGP, DCH, DFFP
Dr Quinn is a Salaried GP.

She qualified from Dundee in 1995 and currently works three days a week.

GMC No. 4210423

Dr Fraser is a Salaried GP.

She qualified from Bristol in 1990. She is part-time, working four sessions a week.

GMC No. 3469941

Dr Jessica Jones

MB ChB, BSc, DRCOG, MRCGP

Dr Emma Rivers

MBChB, MRCPCH
Dr Jones is a Salaried GP.

She qualified from Bristol in 2007 and currently works three days a week.

GMC No. 6156554

Dr Rivers is a Salaried GP.

She qualified from Birmingham in 2010 and currently works full time.

GMC No. 7072165

Dr Ruth Hodges

MbCHb, MRCGP

Dr Stephanie Bellamy

MbChB, BSc (Hons), MRCGP
Dr Hodges is a Salaried GP.

She qualified from Leeds in 2008 and currently 3 days a week.

GMC No. 7015340

Dr Bellamy is a Salaried GP.

She graduated from St Andrews and Manchester in 2014 and currently works 3 days a week.

GMC No. 7458927

GP Registrars

Dr Moe Moe Thu

MB BS

Dr Amit Chopra

MB BS
Dr Thu is a GP Registrar.

She qualified from University of Medicine 1 Yangon in 2010 and currently works five days a week.

GMC No. 7367597

Dr Chopra is a GP Registrar.

He qualified from Bose Medical College in 2005 and currently works five days a week.

GMC No. 7506489

Dr Jonathan Thompson

BMedSci, MBBS

Dr Emily Parsloe

MB BChir
Dr Thompson is a GP Registrar.

He qualified from Nottingham in 2009 and currently works three days a week.

GMC No. 7045419

Dr Parsloe is a GP Registrar.

She qualified from Cambridge in 2015 and currently works three days a week.

GMC No. 7488709
GP Specialties
Dr Rickwood - Rheumatoid Arthritis, Musculoskeletal / sports medicine, joint injections (all except feet), & Adult Safeguarding Lead
Dr Frith - Women's health, atrial fibrillation, & medicine / prescribing
Dr Salisbury - Mental health, dermatology, joint injections (shoulders, knees, tennis elbow, & plantar fasciitis), can also do epley manoeuvre
Dr Kitchen - Contraception (implants) and memory / dementia
Dr Lawrence - Diabetes, Hypertension & women's health (coils & implants)
Dr Fraser - Women's health & Child Safeguarding Lead
Dr Quinn - Hypertension
Our Practice Team

Doctors in Training (GP Registrars)
The practice is approved for GP training. Fully qualified doctors with at least 2 years experience in hospital medicine will be in the practice to gain experience of general practice. Part of this training may include videotape consultations to aid analysis of the doctor's consulting technique. You may be offered an appointment to see a GP Registrar or you may be asked to consent to video taping of your consultation. You are under no obligation to participate in this if you prefer not to.
---
Our Practice Nurses

Practice nurses are available from Monday to Friday during surgery hours for appointments. They can help you with blood pressure checks, dressings, minor injuries, immunisations, family planning advice, travel advice, cervical smears, minor skin lesions, general health checks, dietary advice, and routine blood/urine tests.
Sister Sharon Lax (Nurse Manager)
joined the practice in 2006 and became nurse manager in 2017. She works part time undertaking the full range of treatment room procedures and is trained in all long term conditions.
Sister Sarah Hayes

joined the practice in 2017. She works part time three days a week undertaking treatment room procedures.
Sister Lyndsay Savery
joined the practice in 2019. She works part time three days a week undertaking treatment room procedures.
Sister Sarah Rushforth
joined the practice in 2020. She works part time three days a week undertaking treatment room procedures.
---
Healthcare Assistant/Phlebotomist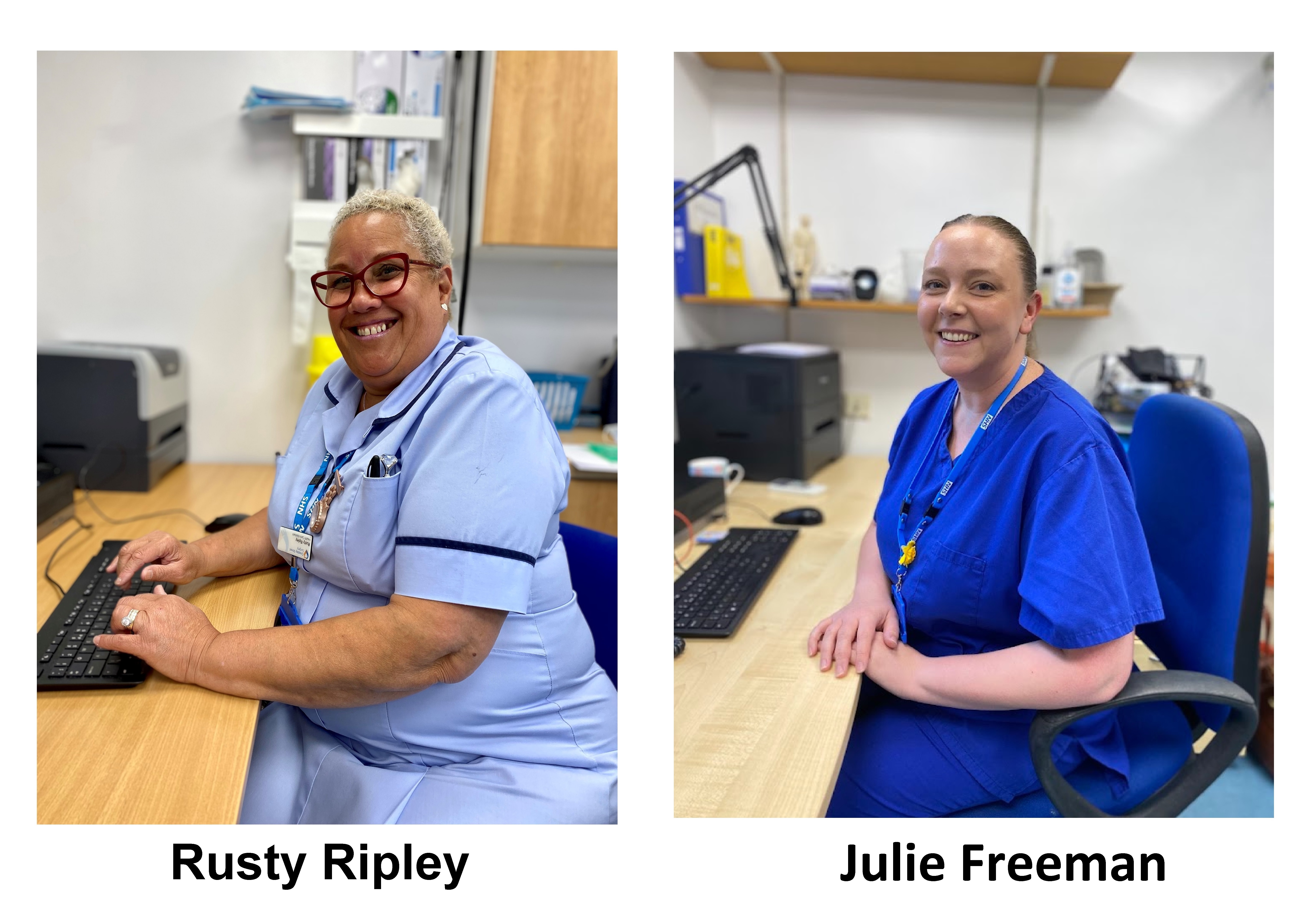 Our Healthcare Assistants, Debbie Kaye, Rusty Ripley, and Andrea Pallister provide a support service to the nursing team and can take blood samples, take your blood pressure, perform ECGs, NHS healthchecks, and other support services.
---
Our Management Team
Practice Manager
Sarah-Jayne Humphries, our Practice Manager carries out a wide variety of duties helping the doctors to run the practice efficiently. If you have any queries, suggestions or problems please address them to the Practice Manager.
Reception Manager
Anita Downie is our Reception Manager, with responsibility for managing the reception team.
Data Quality Manager
Eliza Venizelou is our Data Quality Manager. She manages the Data Quality Team, who are responsible for carrying out audits and ensuring our processes are followed correctly. She also manages our secretarial team.
---
Senior Administrative Staff
Senior Data Administrator
Beth Congreave is our Senior Data Administator and assists Eliza with the responsibilites of the Data Quality Team. She also oversees the members of the Data Quality team.
---
Secretaries & Data Quality Team Members
Andrea Stockdale is our Patient Administrator and deals with a number of patient related tasks including registrations and deductions.
Bex Miller is our Clinical Coder and processes all of our hospital letters.
Hannah McCarthy is our Data Administrator and assists the Data Quality Team in carrying out audits.
Jayne Jennings and Monika Rabajczyk are our Secretaries. Jayne is also responsible for medical reports.
---
Receptionists
Our receptionists - Anu, Clare, Diane, Donna, Janine, Jo, Lindsay, Liz, and Marie - have a demanding and difficult job. They will always attempt to deal with your request as efficiently as possible, though this can occasionally take some time. Please be patient, especially at busier times.
---
The Primary Healthcare Team
The doctors work in close contact with district nurses, district midwives and health visitors. If you think you need home nursing care, please ask your doctor. In addition to these staff a wide range of other health care professionals contribute to the services provided in the surgery and the community.